SaferSkin
SaferSkin™ is an integrating solution that supports the determination of key safety properties of skin, including irritation, tolerance, penetration, metabolism, and sensitisation. SaferSkin™ integrates in silico and in vitro methods and services, supported by a harmonised data infrastructure and an expert consulting team. As part of our solutions we developed the SaferSkin application which is an integrative skin sensitisation assessment tool.
---
Category
SaferSkin sensitisation packages
Required assays for skin sensitisation risk assessment of chemicals and materials
How to score chemicals and materials as potential skin sensitisers based on the OECD assays
Further assays for integrated skin sensitisation risk assessment
SaferSkin sensitisation packages
SaferSkin formulation testing
Request further information
About
SaferSkin™ is an integrating solution that supports the determination of key safety properties of skincare products, including irritation, tolerance, penetration, metabolism, and sensitisation.
Our mission is to ensure consumer safety by identifying potential dangers in your chemical formulations by providing comprehensive information about your finished products.
We provide step-by-step assistance for your projects in cosmetic and pharmaceutical development – while maintaining full compliance with all regulatory requirements.

SaferSkin Workflow - An example
Our solutions are based on authority guidelines which define the workflow during assessment to guarantee data integrity. The SaferSkin (OECD TG 497) decision tree serves as an example of such a workflow for skin safety risk assessment. It is well described in the guideline and includes the results of three standardised in vitro methods «DPRA», «KeratinoSensTM» and «h-CLAT». Each assay is specific for a molecular key event leading to skin sensitisation. Two out of the three assays have to give a clear result, otherwise the results are considered inconclusive and further data has to be included for evaluation.

Note: Borderline results are determined based on workflows given in Annex 1 of the OECD TG 497 guideline:
«The use of information elements is dictated by the limitations as found in the respective test guidelines (TG 442C, Appendix 1; TG 442D, Appendix 1A; TG 442E, Annex 1). For example, in case a negative h-CLAT result is obtained for a chemical with Log P > 3.5 (according to the limitation described in TG 442E (4)), a 2o3 DA prediction can only be made if the outcomes of the other two test methods composing the 2o3 DA are concordant and are non-borderline.»
SaferSkin Case Studies
Included in our offers are case studies where we evaluate compounds based on an internal procedure that includes in silico and in vitro approaches based on the authority guidelines. With the following link we provide several examples of case studies including Defined Approaches (DA) from the OECD 497 guideline.
SaferSkin sensitisation packages
SaferWorldbyDesign introduces comprehensive skin sensitisation assessment packages, setting an industry standard for extensiveness. Our packages offer a complete range of both in vitro and in silico methods, ensuring thorough and precise skin sensitisation evaluation. It encompasses all OECD-approved methods alongside supplementary techniques, providing a comprehensive solution to meet your assessment needs.
Required assays for skin sensitisation risk assessment of chemicals and materials
The evaluation of chemicals and materials as potential skin sensitisers is well described and regulated by the OECD 497 guidance on skin sensitisation. Thereby, three in vitro assays are described for three of the four different molecular key events leading to Allergic Contact Dermatitis (ACD) which is the adverse outcome of skin sensitisation. The first Key Event (KE) or Molecular Initiating Event (MIE) describes the covalent binding of the test substance to cysteines and lysins of skin proteins that can be measured by HPLC analysis. The DPRA assay is regulated by the OECD 442C guidance. The second KE describes the activation of keratinocytes, which constitute the main cell type in skin tissue. This KE can be evaluated by the KeratinosensTM assay, which evaluates the gene expression profile by luciferase analysis of the test cells. The KeratinosensTM assay is regulated by the OECD 442D guidance. The third KE describes the activation of dendritic cells that can be measured by the h-CLAT assay, where antibodies against CD54 and CD86 are used to measure their expression level by flow cytometry. The h-CLAT assay is regulated by the OECD 442E guidance. The three KEs lead to ACD by the activation of T-cells.
The OECD regulations demand the three assays, DPRA, KeratinosensTM, and h-CLAT to be conducted in a two-out-of-three approach. This means that two out of the three assays need to give a clear and non-contradicting result on the chemical either as skin sensitiser or skin non-sensitiser.
As a second point, the OECD 497 further demands that the DPRA and h-CLAT results have to be taken and integrated with an in silico QSAR approach. This in silico toolbox can either be Derek Nexus which is considered as Integrated Test Strategy version 1 (ITSv1) or the OECD QSAR Toolbox which is considered as Integrated Test Strategy version 2 (ITSv2). Please find an overview of the OECD-regulated risk assessment approach on skin sensitization in Table 1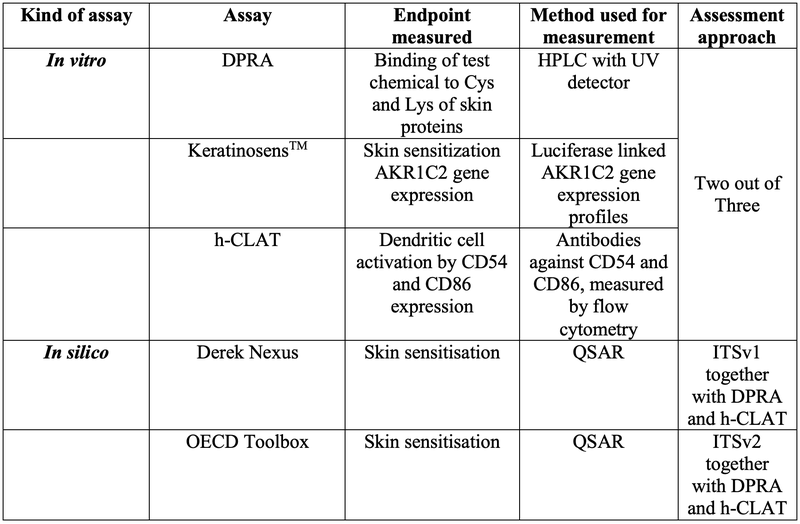 Table 1: The defined risk assessment approach for skin sensitization by the OECD 497 guideline. DPRA, KeratinosensTM, and h-CLAT have to be conducted and at least two out of the three assays have to give a clear result on skin sensitization. Furthermore, DPRA and h-CLAT have to be integrated either with Derek Nexus QSAR or OECD Toolbox QSAR modeling.
How to score chemicals and materials as potential skin sensitisers based on the OECD assays
For DPRA, the mean peptide depletion for Cys and Lys are given in [%]. For the KeratinoSens assay, the concentrations in [μM] are given which result in a 1.5 fold (KEC1.5) or 3-fold (KEC3) luciferase induction. The IC50 value describes the concentration which affects a reduction of cellular viability by 50 %. For the h-CLAT assay, the concentrations are given at which the test chemicals induced a Relative Fluorescence Intensity (RFI) of either 150 eg. 1.5-fold (EC150) or 200 eg. 2-fold (EC200). The CV75 value describes the concentration showing 75 % of cell survival (25 % cytotoxicity). Assays can give results such as NP = Not Possible when a chemical is not soluble or data not available for instance. Based on obtained results, the compounds have to be scored by using the tables which are illustrated in Figure 1. Figure 1 also includes an example in green.

Figure 1: OECD Tables which have to be used for scoring the DPRA, h-CLAT, and QSAR results in the integrated OECD approach ITSv1 or ITSv2. In green, there is an example where DPRA results in score 1, h-CLAT in score 2, and the QSAR Toolbox in score 1. Since both assays were applicable and the in silico prediction is in the domain, the total score is the sum of DPRA, h-CLAT, and QSAR, which is 4 in our example. UN GHS 1A = Strong sensitiser, UN GHS 1B = Other sensitiser, NC = Not Classified.
Further assays for integrated skin sensitisation risk assessment
Beside the required assays described by the OECD, further in vitro and in silico assays can be used to strengthen the weight of evidence and to underline predictive outcomes. Possible further tools include:
In vitro assays
The Genomic Allergen Rapid Detection (GARD) assay which is based on the Nanostring nCounter technology, which enables the assessment of up to 800 genes or 228 gene fusions in twelve samples in a single assay. With a Support Vector Machine (SVM) model, chemicals are classified into category 1A (strong sensitisers) or 1B (other sensitisers). The assay measures dendritic cell activation and hence it can be used for KE3.
The SENS-IS assay, which is a patented human episkin model assay which allows the testing of chemicals based on the analysis of the expression from a large consortium of different genes. The assay is robust, easily transferable, has high predictability and is reproducible. The assay measures keratinocyte activation and hence can be used for KE2 to underline the KeratinoSensTM results. The assay is one of the new approach methods for evaluating skin sensitisation potential of ingredients and formulations. It is based on the measurement of gene expression of 61 skin irritation and sensitisation-related genes in the human 3D reconstructed epidermis model (Episkin®) upon exposure to the tested sample. Expression of these genes is quantified by a widely used RT/qPCR technique. Based on the number of significantly induced genes, the tested sample can be classified as skin irritant or skin sensitiser. Thereby, the category 1B is further divided into weak (50% compound concentration) and moderate (10% compound concentration) outcomes and 1A is further divided into strong (1% compound concentration) and extreme (0.1% compound concentration) outcomes.20 With this, we have a strong and valuable predictive tool which we can use as an additional approach for skin sensitisation risk assessment.
In silico Assays
SaferSkin, our computational skin characterisation comparison tool developed at SaferWorldbyDesign, includes OECD methods, Bayesian network, and multiple regression models to predict the skin sensitisation of chemicals and materials.
The TIMES SS (GHS) model was developed by the Laboratory of mathematical chemistry in Bulgaria and is a Skin Metabolic (SM) simulator based on empirical and theoretical knowledge. It considers non-enzymatic transformations, enzyme-mediated reactions, and Protein Binding Reactions (PBR).
The SkinDoctor application is an in silico tool which is a random forest model for binary and ternary classification of sensitisers versus non-sensitisers.
MultiCASE CASE Ultra Toolbox is a QSAR software for modelling and predicting toxicity of chemicals for different types of applications. In our study, we used the toolbox that was developed for predicting skin sensitisation. Besides skin sensitisation, the tool provides predictions for ten models in total, including eye Draize, eye irritation, LLNA CAT2, LLNA CAT3, LLNA CAT4, Skin carcinogenicity, Skin corrosion, Skin irritation, Skin SENS LLNA, and Skin SENS non LLNA.
Figure 2 gives an overview of all the assays that are used for skin sensitisation risk assessment at SaferWorldbyDesign

Figure 2: Overview of the OECD assays (green) and the additional assays which are offered by SaferWorldbyDesign (bold black) in relation to the measured Key Event (KE).
SaferSkin sensitisation packages
At SaferWorldbyDesign we provide you with the OECD-required assays which you need to do to evaluate your compounds and materials for skin sensitization.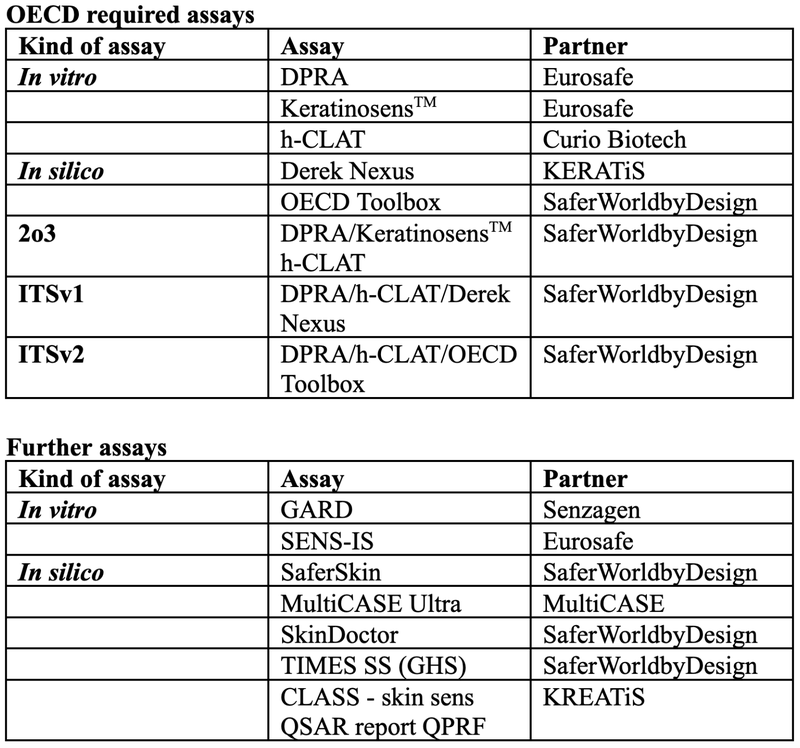 We offer standard solution packages as shown below. Depending on your needs, we can also put together a customized assessment package for you. Additionally, we can take care of your data with our data management system and knowledge infrastructure following highest standards for data privacy, safety, Findability, Accessibility, Interoperability, and Reusability (FAIRness).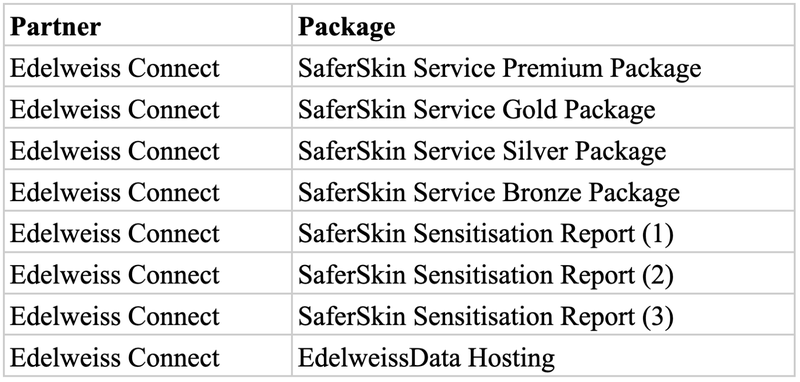 The SaferSkin Application
The SaferSkin application is a web application, which is used for predicting ingredient's potential to cause skin sensitisation, without animal testing.
The application applies integrated strategies of safety assessment to skin sensitisation.
It combines the top three approaches for accurate predictions of skin sensitisation.
The application applies state-of-the-art science to workflows over the entire discovery and development funnel, to regulatory acceptance and registration.
Check the science behind the app > here.
The app can be used for:
Hazard identification, classification, and labeling under the Globally Harmonised System of Classification and Labelling of Chemicals (GHS) scheme (UN 2013).
Quantitative risk assessment (QRA) especially when combined with in vivo evidence on analogs.
Development of an efficient testing strategy, as a decision strategy tool.
Main features
Comparison of 3 approaches: Bayesian Network, '2 out of 3 weight of evidence', multiple regression
Category prediction with confidence levels
Simple to use interface
Single compound input submission - entered as SMILES or drawn
Physical properties calculated
LLNA pEC3 & EC3 values from 50-90th percentile confidence
Licenses
We offer three different license options.
Tutorials
Tutorials on application use and reports.
Our services
Through our integrated approach, we collect and curate background data and apply algorithms including all main industry-led and OECD Defined Approaches (DA) supporting model predictions and comparisons – a process that leads to safer, greener, and more sustainable products.
What we provide
Expert Consulting to help you navigate through your assessment
Formulation and ingredient modelling, testing, and assessment
Expert study design, consulting, and regulatory reporting
A tiered strategy of in silico and in vitro based modelling and assessment for skin irritation, penetration, and sensitisation
In vitro skin sensitization assay testing according to OECD guidelines and GLP standards (DPRA, KeratinoSensTM, h-CLAT)
In silico based modelling using defined approaches according to industry best practices
Advanced omics-based assay testing of ingredients and formulations
Evaluation of advanced materials including nanoforms
High-quality harmonised data integrity and provenance supported by EdelweissData™
Those services are based on the following methods:
In silico modelling
Our in silico modelling and in vitro testing workflows are anchored to key events of Adverse Outcome Pathways (AOPs).
We can apply a variety of algorithms and machine learning techniques to SaferSkin™ datasets supporting the building of reference and customized models.
For skin sensitisation we have reproduced the leading defined approaches developed and used at industry leaders such as P&G, BASF, Givaudan and Shiseido and including a well-documented and easy-to-use comparison of model results.
In Vitro
Our laboratories historically specialize in in vitro studies. We offer a portfolio of assays ranging from the well-established to the most cutting-edge, guided by in silico modelling.
Some assays are regulatory compliant to ensure the safety and tolerance of finished cosmetic products. We can evaluate dermal absorption and delivery of a test substance using excised skin.
In order to determine the possibility of peripheral effects during dermal administration of test compounds, it is essential to evaluate the potential of transcutaneous passage of compounds. Our in vitro methods can measure the diffusion of chemicals across different skin models. Transcriptomics experiments can reduce the uncertainty in assay results using mechanistic gene signature analysis.
AI / Machine learning
We have leading expertise in developing and validating QSAR models.
We apply our machine learning expertise to the development of models in SaferSkin™ applications including customised versions for customers.
Our AI team has competency in extracting targeted knowledge from information collections (documents, abstracts, etc.) and organizing it as structured information e.g., available to applications from a customized EdelweissData™ instance.
Data Management
Our EdelweissData™ approach to data management organizes all data within our system using best data practices and standards.
All metadata and data are harmonized and aim for completeness and integrity.
Data processing workflows are organized as reproducible in silico protocols with instances stored within the system for future reference.
All in silico and in vitro protocols are fully described and stored in the system.
Secure customer data management solutions can be provided through premium customer accounts on a secure cloud.
Partner contribution
Together with our partners, we serve you with up-to-date in vitro assays, computational toxicology and PBPK methods, consumer testing, and regulatory toxicology assessments. Our mission and expertise is to ensure consumer safety by identifying potential dangers in your chemical formulations and evaluating the safety of your finished products.
We will provide step-by-step assistance for your projects in cosmetic and pharmaceutical development – while maintaining full compliance with all regulatory requirements. At your disposal is a diverse portfolio of assays and methods, ranging from the well-established to the most cutting-edge.
All techniques meet the stringent criteria of modern science and are performed to the highest professional standard. We are devoted to providing an excellent, transparent, and personalised service.
The partner contribution includes:
PKDERM
PKDERM is a French company which was founded in 2018. It offers a wide range of the newest in vitro assays and models for skin safety assessment. Their focus lies on products applied in the fields of cosmetics, dermatology, pharmacy, chemicals, agro/petrochemicals, and medical devices.
SenzaGen
SenzaGen is a Swedish biotech company that provides state-of-the-art non-animal tests for assessing a substance's allergenicity. The GARD® test method combines genomic data from human cells with machine learning for a unique capability to identify and analyse whether a chemical could cause allergic reactions on the skin or in the respiratory tract.
Curio Biotech
Founded in 2017, Curio Biotech Ltd is a GLP-ready Swiss Contract Research Organization (CRO) located at BioArk (biotech park), Visp, Switzerland. It provides in vitro testing services to cosmetic, pharma (small and large molecules), and diagnostic industries using proprietary culture media and primary human cell-based 3D co-culture models. In vitro services focus on basic research, drug discovery, toxicity, and pharmacology in the areas of dermatology, immuno-oncology, and regenerative medicine. Furthermore, Curio Biotech offers a variety of batch/lot release tests like potency tests for the bio-pharma industry, biocompatibility tests, and other regulatory OECD tests.
Biopredic
Biopredic International is a French privately-owned biotechnology company founded in 1993. Biopredic's expertise was initially based on primary hepatocyte cryo-preservation and quickly grew to encompass the isolation, production, and distribution of fresh and frozen human and animal biological products, including tissues, primary cells, cell lines, and reagents.
Eurosafe
Eurosafe is a GLP-certified (A level) Contract Research Organisation (CRO), specialised in the testing of human and animal pharmaceutical products, cosmetics (ingredients and finished goods), food supplements, medical devices and biocides. Eurosafe provides state-of-the-art in-vitro ADME tests for chemical compounds, safety tests, in-vivo efficacy and tolerance studies, toxicological expertise as well as consulting services on the European regulations. Eurosafe is one unique CRO that covers several services organized around 3 specialties: 1. In vitro assays. 2. Tests on volunteers. 3. Toxicological expertise and regulations.
React4Life
React4life is an Italian biotech company founded in 2016 after more than 15 years of R&D by Silvia Scaglione and Maurizio Aiello, together with a multidisciplinary team of experts, with the ambition to turn the promise of biomedical research into concrete benefits for society. Scientists can finally rely on a new enabling technology to recapitulate human biology in the lab: MIVO® (Multi In Vitro Organ), the next generation of organ-on-a-chip. This cutting-edge microphysiological system enables researchers to overcome the limits of current in vitro assays and animal models. It improves the reliability and predictivity of several applications: pharmaceutical drug-testing, personalized medicine, novel immuno-oncology therapies, cosmetics, dermatology, and nutraceuticals.
EdelweissConnect
Edelweiss Connect (EwC) - as the provider of this SaferWorldbyDesign platform - offers the expertise and experience to initiate, coordinate, and manage large collaborative research projects, with partners from industry, government, and academia. Our goal is to incubate high-impact products, services, and solutions at the forefront of innovation, with sustainability and responsibility.
KREATiS
KREATiS is a unique organisation offering you in silico ecotoxicology, mammalian toxicology, and physical chemistry predictions to screen the hazards of your substance to complete your regulatory dossiers or boost your R&D in the most time and cost-efficient way possible using:
► Our home-grown, high-accuracy QSAR models in the form of iSafeRat® Toolbox
► A comprehensive choice of third-party software to fill the remaining datagaps that iSafeRat® does not cover
SaferSkin Formulation testing
With the SaferSkin Formulation testing solution we provide:
Strong business cases supporting value gains for data-driven decisions supported by the weight of evidence.
Evaluation of uncertainty in current assessment based on Bayesian Network and AI methods.
Business Case workflow for use of New Approach Methods (NAMs), Integrated Approaches to Testing and Assessment (IATAs) and Read Across to reduce uncertainties in the recommended safe level of use of ingredients in the formulation.
Integrated Testing of key ingredients and formulations available in workflows orchestrating remote testing and return of data, models, and reports to the system.
Prediskin
Protocols
Prediskin is able to assess the potential cutaneous irritation of a cosmetic product related to its toxic effect on skin cells and its condition of exposure, using fresh human skin discs.
Data Analysis
A notebook that demonstrates how Prediskin assay data published in the EdelweissData can be accessed and analysed.
Prediskin Assay
To ensure transparency and reproducibility of data management in a Prediskin assay we employed our EdelweissData solution.
Prediskin Shop
Order Skin disks, in vitro or in vivo assays, and Regulatory toxicology services.
Regulatory framework
To ensure scientific integrity we apply our services under the newest authority regulations. With this we operate under the highest ethical standards to guarantee results with highest value.
Skin Sensitisation
OECD GuidelineNo. 497 on Defined Approaches for Skin Sensitisation
OECD Test Guideline No. 442C In Chemico Skin Sensitisation
OECD Test Guideline No. 442D In Vitro Skin Sensitisation
OECD Test Guideline No. 442E In Vitro Skin Sensitisation
Skin Irritation
Skin Permeation
Phototoxicity